Evaluating Dolly Parton's Imagination Library
Media coverage of the evaluation of Dolly Parton's Imagination Library in the NSW town of Tamworth, led by Claire Galea (July 2023 & November 2022).
Radio
ABC Radio Interview (2023, July 6), Dolly Parton Imagination Library in Tamworth Australia:
Articles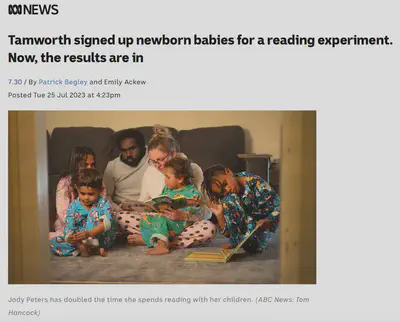 Begley, P., & Ackew, E. (2023, July 25). Tamworth signed up newborn babies for a reading experiment. Now, the results are in. ABC 7.30.
Skelly, S. (2022, November 2). Study to show how Dolly Parton project inspires Aussie kids to read. The Lighthouse.